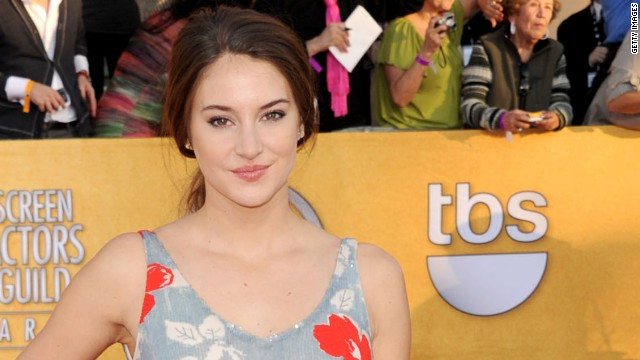 Shailene Woodley (via Cnn.com)
The Fault in Our Stars
movie adaptation is quickly becoming a reality. Recently, they
cast
Shailene Woodley as Hazel Grace. With upcoming roles in
Spider-Man 2
and
Divergent
, plus a Golden Globe nomination for 2011's
The Descendants
, Woodley is making a play at being the next Jennifer Lawrence. The producers of the
TFIOS
movie aren't messing around. It helps that the role of Hazel Grace is a dream for any young actress, especially in a movie biz where actresses are relegated to the "girlfriend" role. Unlike
The Hunger Games
and
Divergent
, the storyline of John Green's bestseller is very awards-friendly: dramedy + romance + cancer.
Historically, teen films have a horrible track record with awards. They usually lack the gravitas to appeal to the stodgy Academy who votes on the Oscars. The average Academy member is a 60-year-old white male, and American teen lingo and themes don't translate to the members of the Hollywood Foreign Press who vote on the Golden Globes. But sometimes, a movie is good enough and lucky enough and have the right people behind it to break through at the Oscars. And the last movie to accomplish this was
Juno
.
via wikipedia
Will The Fault in Our Stars be Oscarbound like Juno?
Tonally, the two properties are similar. Both center around whip-smart teenage girls with a knack for sharp dialogue. Both are equal parts funny, romantic, and heartfelt. And screenplays for both films made the Black List, a highly-regarded list of the best unproduced scripts circulating in Hollywood. Juno was nominated for 4 Oscars (Picture, Director, Actress, Original Screenplay) and won Best Original Screenplay.
Juno
is the gold standard for teen movies breaking through at the Oscars. (pun intended) The movie was well-received and a box office smash, but five years later, it's still shocking that it got this far. How did a cute film loaded with quirky dialogue ("Honest to blog") about a teen mom win over the stuffy, old Academy members?
Diablo Cody with her Oscar (via Ew.com)
It was marketed as an adult film. Juno was originally positioned as an indie film for movie-loving, upscale adults. It wasn't marketed to teens at first. The film screened at film festivals and started in limited release in December, in the thick of the Oscar race. Sure, it appealed to teens and twentysomethings, naturally. But it wasn't until it received nominations and expanded into wide release that Fox Searchlight began broadening the target audience. Here, TFIOS is at a disadvantage because despite mainstream success, it's perceived first-and-foremost as a YA story. Whether this will lessen the film's quality in the Academy's eyes remains to be seen.
It had the right auspices. Juno was always positioned as an auteur's film. Most teen films use hot stars to sell their film, but Juno was sold on the strength of its director and writer. Director Jason Reitman was coming off his debut feature, Thank You for Smoking, which established him as a filmmaker to watch among critics. Juno solidified his position as one of the top emerging talents in Hollywood. Diablo Cody's script transformed her overnight into a star, a rare instance of a movie getting attention because of its screenwriter. Her backstory -- former stripper turned blogger turned screenwriter -- gave the film tons of free publicity and made her a darling of the arthouse crowd. Finally, the studio that released Juno -- Fox Searchlight -- knows how to sell quirky to Oscar voters. The year before, they carried Little Miss Sunshine to two Oscar victories. If any other director, writer, and studio had made this film, it probably wouldn't have made it to the Oscars. TFIOS has a rising star and screenwriters (Scott Neustadter and Michael H. Weber, the duo who scripted (500) Days of Summer), but its director Josh Boone is an unknown. His first film Stuck in Love comes out in June, and if it's a hit with critics, then that could put him on the map as a director to watch, which would create nice momentum for TFIOS.
It was released in the right year. Most of all, Juno benefited from perfect timing. 2007 had the darkest lineup of Best Picture contenders in recent history. Not standard weepies, but blackhearted, amoral movies: No Country for Old Men, There Will Be Blood, Michael Clayton, even Atonement ended on a downer. Other movies in contention that year like 3:10 to Yuma, Gone Baby Gone, and Bourne Ultimatum were ultra serious and violent. Juno was a breath of fresh air, a stark contrast to everything else competing for Oscars, which allowed it to stand out. Had it been released the following year, Slumdog Millionaire would've steamrolled right over it.
I really like
Juno
. But frankly, there are other teen films with better, sharper scripts (
Clueless, Mean Girls, Heathers
). I like to think that the great, ignored teen films of the past were being retroactively recognized with
Juno
's screenplay Oscar.
Will
TFIOS
follow
Juno
's path? It's very possible. Like with anything in publishing, it's all about quality, luck, and timing. The Oscars are only partially about awarding the best films. "Best" is subjective. So many factors go into who gets nominated and who wins. (marketing, genre, talent, campaigning...wasn't
Argo
's win last year mostly a "Ben was snubbed" reaction?) It's very possible that Shailene Woodley's role on
Secret Life
and questionable
red carpet
choices could've ruined her chances of getting nominated for
The Descendants
-- you know, nothing having to do with her actual performance. I don't think the people behind the
TFIOS
movie care about winning awards. I believe they just want to make a film that will please fans and touch general moviegoers. And really, that's the ultimate reward.