I can't believe summer is almost over! It flies by every year. This summer was particularly strange because here in Chicago, we only had a handful of true summer days. Otherwise, it was like an extended spring (70s, bipolar mix of rain, clouds, and sun). Today feels like a crisp fall day. Which I'm not complaining about, especially because I don't have central air. But still, as much as I hate the dog days of summer, it's weird not having them. It makes me appreciate the cooldown in September/October.
I haven't thought too much about the temperature because I've been so BUSY this summer. So busy I kinda neglected you, dear blog. I know what you're thinking --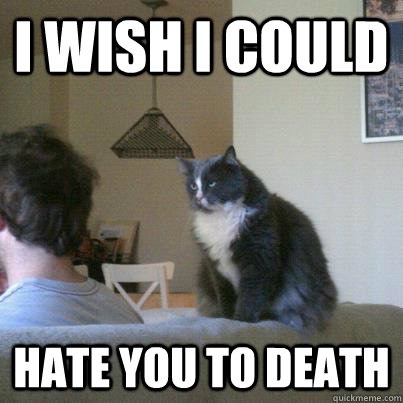 via quickmeme
Well, here's a rundown of what's been going with me these past two months, kind of like the less-cool version of
this epic montage
.
* I finished line edits on THE BREAK-UP ARTIST and am in the middle of writing acknowledgements. It's
this
close to being a real book!
* I taught my first class - Writing the YA Novel - at
Trade School Evanston
and was paid in cupcakes.
* I'm speaking on my very first panel this Thursday about writing and publishing. Fingers crossed I'm not a rambling mess.
* I've been feverishly writing my new MS and crossed 50k words. I like writing in summer because the sun shining at 6 a.m. makes it much easier to wake up early. It's a struggle to get out of bed when it's pitch black outside. I should have a rough draft done by Labor Day, which is the fastest that I've ever written a book!
* I outlined a new super-secret WIP which I hope I can tell you about in the future.
* I have done
some
blogging, just not here. Check out my post at
Michelle Krys's blog
on query contests, and
my summer reading reco
at the YA Valentines. I have three more guest posts coming up in the next two months. In other words, see you in October possibly.
* I devoured ORANGE IS THE NEW BLACK on Netflix. It has some of the best female characters ever written for TV. And what's most impressive is that despite the sprawling cast,
every
character is fleshed out and has a moment to shine. It's an incredible balancing act. Now I'm enjoying the final season of BREAKING BAD. (catch up on Netflix! There's still time!)
*I've seen a bunch of movies. WORLD WAR Z was hands-down the best one I saw this summer -- which proves that you should never be afraid of a rewrite. (THE TO-DO LIST is runner-up. Unfortunately, it bombed, but it's destined to be a cult classic.)
How has your summer been?